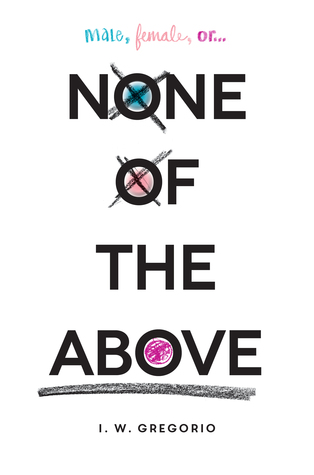 None of the Above
By I.W. Gregorio
Published 2015 by Balzer + Bray
Kristin's life is pretty great. She's an outstanding athlete, she's just been elected Homecoming Queen, and she's crazy about her boyfriend. So crazy, in fact, that she's decided it's finally time to take the next step. But her first time is not good - so not good that she suspects something is amiss. After a trip to the doctor, Kristin discovers the truth - she's intersex. But what does that even mean? She'll have to figure it out - and fast - particularly once her diagnosis is leaked to her entire school.
This book has been on my radar for a loooooong time - honestly, I can't even remember when I first heard about it. I am always intrigued when books cover a topic that is typically ignored, particularly for young people, and this book definitely fits the bill with its exploration of intersex. I immediately added it to my TBR and was pleased to see it available for download.
I pretty much flew through this book. It's a pretty fast-paced read and once I started, I didn't want to stop - I wanted to find out where Krissy's story was going to go and how it was going to end for her. I thought Krissy was a great character - she was pretty easy to relate to and her story was believable. I appreciated that this novel was about more than just her diagnosis - she is also still dealing with the loss of her mother and the changing nature of friendships and relationships. The overwhelming emotions she feels when her diagnosis is added to this list is definitely believable.
I also appreciated the pains Gregorio took to really explain intersex and how it differs from transgender or any other diagnosis. As noted, intersex is a catch-all term for a variety of chromosomal abnormalities and they are not all explained in this book, instead focusing on the one that Krissy is diagnosed with. I think it's great that the book makes this distinction and explains that every case of an intersex diagnosis is probably going to be a bit different - which really should surprise no one, as every person is a bit different, regardless of diagnosis or no. I think this book does a great job explaining a condition that is likely to be unfamiliar to many readers without feeling like a clinical textbook.
The book does stumble a bit for me. Yes, Krissy is on a continuing journey of self-acceptance (like pretty much all teenagers), but I never really felt like she gets there. And maybe she doesn't - another intersex character she meets explains that maybe she's still coming to terms with it, years after her diagnosis. Maybe Krissy's story is the same. But the romance that comes near the end of the book seems a bit ill-placed; in a small way, it feels like Krissy doesn't really move further in her self-acceptance until her sex appeal is validated for her by another person. Additionally, I found the romance exceedingly obvious - actually, from the first appearance of the character, I could tell that Krissy was going to end up with him. I would have preferred more subtlety or no romance at all.
Ultimately, though, this was a very enjoyable read and an important one for teens. I definitely recommend this one.
Thanks to the publisher for a digital advance reader's copy, provided via Edelweiss.