Here Comes the Easter Cat
By Deborah Underwood, illustrated by Claudia Rueda
Published 2014 by Dial Books for Young Readers
This book is awesome. I mean, I know that's kind of a cop-out review, but it's also true. I loved this book and I think kids are going to love it, too. It's so much fun and also adorable and it's about a cat, so really, what's not to love? I love that the illustrations in this book are so expressive that you almost don't need the words to understand the story. I love how hard Cat tries to be fun and lovable - but he is a cat, after all. I love that there is going to be another one! Just love this book!
Sparky!
By Jenny Offill, illustrated by Chris Appelhans
Published 2014 by Schwartz & Wade
Okay, sloths are a pretty big deal right now, so this book only makes sense. I mean, who doesn't want a sloth for a pet? They are adorable and they live in a tree and they make the cutest noises ever. This book is really cute, and is great to teach kids that sometimes a pet isn't exactly the way you want it to be. But sometimes a pet can also be a surprise. Obviously, we can't encourage children to want sloths for pets, but it may make them interested in learning about the wide variety of animals out there. Plus, I mean, SLOTHS. Just so stinking cute.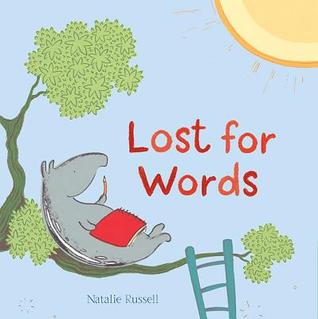 Lost for Words
By Natalie Russell
Published 2014 by Peachtree Publishers
This is a cute story that shows we all have different strengths. Tapir is excited about his brand new notebook and can't wait to fill it with words - but the words are lost! So, he asks his friends for help and soon discovers that maybe he should be filling his notebook with things other than words. A sweet story and I appreciate that Tapir is the main character (quick - name another book about a tapir!). This would be a good one for early elementary readers learning about different kinds of writing and artistic expression.