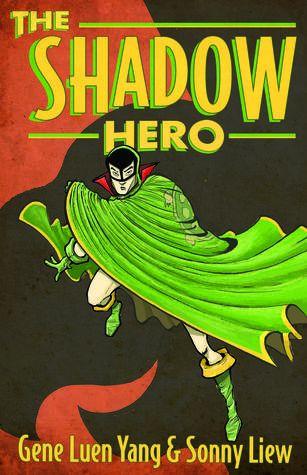 The Shadow Hero
By Gene Luen Yang, illustrated by Sonny Liew
Expected publication July 15, 2014 by First Second
Discover the origin story of The Green Turtle, the first Asian-American superhero!
Ugh, that's not even a summary, I know, but really, that's the basic plot of this book and you don't need anymore information to get started. I was thrilled to see a review copy available on NetGalley - I loved Yang's 2013 titles
Boxers & Saints
.
Unfortunately, I didn't love this one as much. I had high expectations for this one, obviously, considering how brilliant I thought
Boxers
was. Additionally, the call for more diverse books has been particularly strong this year, so it's great to see this title with an Asian-American protagonist (actually, almost all the characters are Asian-American). I really liked the idea behind this book - Yang discover The Green Turtle, a comic book hero from the Golden Age of comics, and decided to invent an origin story for him. I actually found the note at the end and the few pages of the original comic the most interesting. No one knows for sure if The Green Turtle was supposed to be an Asian American hero or not - his creator was Chinese, but the Turtle himself always has his face obscured in the comics. It's a fascinating story and it's easy to see why Yang was drawn to it. I like that he wanted to take it on and create an origin story for this character. I can't pinpoint exactly why I didn't love this - I think partly everything felt a bit rushed. Normally, I enjoy the quick pace of graphic novels, but in this case, I wanted more story and depth than I got. I feel like there were more questions that could have been answered, more issues to explore. Part of it is also personal preference - I generally don't go for superhero comics. So, for a different reader than myself, I can definitely see this book working much better. As it is, it's still a great read - Yang's writing is sharp and concise and Liew's illustrations perfectly echo the Golden Age comics.
Thanks to the publisher for a digital advance reader's copy, provided via NetGalley.