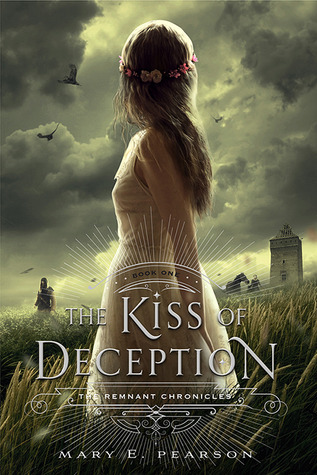 The Kiss of Deception (The Remnant Chronicles, book one)
By Mary E. Pearson
Published 2014 by Henry Holt and Co.
Princess Lia does not exactly live a life of freedom - as a princess and a First Daughter, certain expectations are placed upon her. But Lia is not content to live that kind of life, so she sets out to forge her own destiny, escaping her kingdom and breaking a marriage contract. Little does she know that an assassin has been sent after her and will stop at nothing to fulfill his contract.
I was thrilled to spot this galley available for download. I'm a big fan of Pearson's Jenna Fox series, so I was excited to see a new title from her. I was also incredibly intrigued because it's a marked change of pace - from science fiction to high fantasy. How would it work out?
It's a pretty mixed bag for me. I don't necessarily have a lot of criticisms per se, but I'm also less than overwhelmingly enthusiastic about it. One of the things I enjoyed about the Jenna Fox series was how unique it was, and I think that was missing for me here. Boil this book down to its main elements and it's a basic "girl wants to live her own life" fantasy. That doesn't make it terrible - tropes are tropes for a reason - but I expected more from Pearson.
However, this book does have its unusual qualities. The worldbuilding that Pearson has done is interesting if incomplete - I want to know more about it, which is good, but that's also because not a lot of it really gets explained in this volume, which is maybe not so good. I understand what Pearson is trying to do with the quotes throughout, but so much context is lacking that they don't really make any sense right now. I feel like I'll have to go back and read them all again once the series is complete and I know the whole story of this land.
Character-wise, I liked Lia but, once again, I expected a bit more uniqueness of her. I liked that Pearson chose to use multiple narrators but I was disappointed when the assassin turned out to be exactly who I thought it was. I know she thought she was being tricky here, but it was pretty darn obvious. It was also a bit eye-rolling to pit the two main male characters so dramatically against each other - I would have liked more subtlety. The other female characters, though, were quite enjoyable.
Plot-wise, the transition from the first part of the novel to the second was not as smooth as I would have liked. Things were going so continuously in one direction that the change in action was a bit jarring for me. And honestly, a bit tedious - there was a lot of riding around in that second part of the book. But, the journey bit is important because it also leads to Lia finding out some stuff she wouldn't have otherwise. The ending is, of course, a cliffhanger. I'll be back for book two because I want to know more about this world - I need answers!
Thanks to the publisher for a digital advance reader's copy, provided via NetGalley.