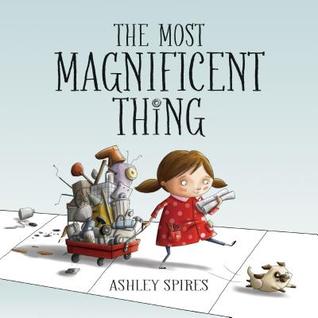 The Most Magnificent Thing
By Ashley Spires
Published 2014 by Kids Can Press
I love Ashley Spires, so no big surprise that I loved this book as well. A girl and her dog set out to make the most magnificent thing ever. She knows exactly what it will look like and how it will work. All she has to do is make it. This turns out to be much more difficult than anticipated. This book is just lovely with vocabulary and showcases a great lesson on persevering in spite of difficulties. This book also shows the importance of creativity and how, sometimes, setting a project aside and coming back to it later can make a world of difference. Delightful.
100 Snowmen
By Jennifer Arena, illustrated by Stephen Gilpin
Published 2013 by Two Lions
For the parents who clamor for counting books that go higher than 10, we present this title! A sly introduction to math (that parents will likely have to help their young ones with), this book introduces 100 snowmen in various numerical groups - 3 snowmen here, 4 over there, etc. They are all having fun with wintry activities and a story could be told through the illustrations alone. I'm not sure I'd share this in a story time but this is a pleasant way to introduce math to young ones. I mean, you can tell it's going to be fun by looking at that guy on the cover - he's having a good time!
The Monkey Goes Bananas
By C.P. Bloom, illustrated by Peter Raymundo
Published 2014 by Harry N. Abrams
A great book for pre-readers who want an interesting story. A monkey spies a banana and wants it, but how can he get to it with that shark in the way? The monkey has some ideas, but will they work? With few words and bright illustrations, this book is great for young kids who crave the storytelling but can't quite read it themselves. The illustrations are reminiscent of children's cartoons, so definitely will catch the eye of young patrons. They will be invested until the last page - will the monkey get the banana??