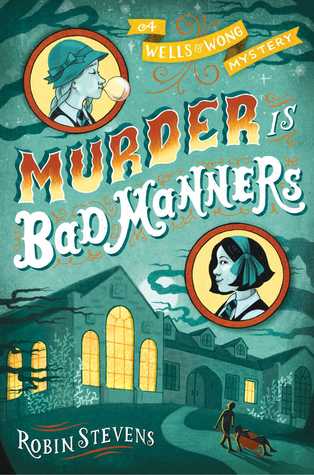 Murder is Bad Manners (Wells and Wong, book one)
By Robin Stevens
Published 2015 by Simon & Schuster Books for Young Readers
Hazel and Daisy love a good mystery - that's why they started their own detective agency. But, they never expected they'd actually be investigating a murder! It's true, though - a murderer has struck at their boarding school and they know they must solve the murder before the killer strikes again. Will their attempts to uncover the mystery put their own lives in danger?
I'm pretty sure I first heard about this one over at
The Book Smugglers
and thought it sounded great - I love historical fiction (this one takes place in 1934) and I enjoy a good mystery. Plus, it features a diverse main character! I was definitely looking forward to reading this one and was very excited to get access to the e-galley. I didn't manage to read it before the release date, but once I started, I spend through it.
I quite enjoyed this one. I thought the setting was well-done and interesting - apparently, I really enjoy boarding school stories (though I think I would have hated attending a boarding school). I liked the historical aspect; I'm not sure how necessary it was. It explains a lot of the prejudice Hazel faces initially and it figures for some fun slang, but I'm not sure if I think the story couldn't have been set in modern times just as easily. I thought the mystery was pretty well-executed as well. There were a number of red herrings thrown in and I didn't figure it out ahead of time (though that's not really saying much). I appreciated how logically the girls went about trying to solve the mystery - I thought it was a very accurate representation of how kids these age think and act.
I truly enjoyed the characters as well - I really loved reading the story through Hazel's voice and she felt pretty authentic (if a bit frustrating in her self-doubt). But this was my main stumbling block with the story: the relationship between Hazel and Daisy. Really, Daisy doesn't really seem much more than a mostly stereotypical mean girl - she knows she's the queen bee and she uses it to her advantage. She uses people as she sees fit with no regard for their feelings and Hazel is no exception. I understand Hazel's loyalty to Daisy - she was the one to first accept Hazel (though, troublingly, not until after a pretty terrible hazing incident) and, because of Daisy, the other girls grew to accept her as well. But, Daisy doesn't treat Hazel very well and, though occasionally Hazel gets tired of this treatment, she continues to stand by Daisy. Perhaps I'm just tired of the antagonistic girl friendship in novels for kids, particularly when there really isn't a whole lot of character growth by novel's end. It really dampened my enthusiasm for this novel, though.
On the whole, I liked it well enough to anticipate the sequel, but I hope Daisy will grow more in future volumes and be less of a terrible friend.
Thanks to the publisher for a digital advance reader's copy, provided via Edelweiss.