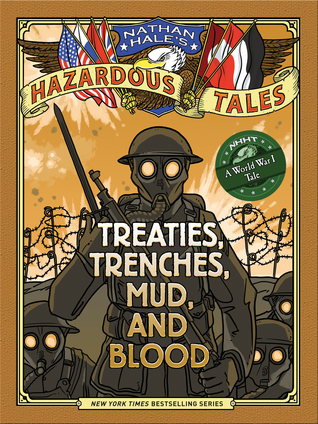 Treaties, Trenches, Mud, and Blood (Nathan Hale's Hazardous Tales, book four)
By Nathan Hale
Published 2014 by Amulet Books
Read my review of the earlier titles here.
The hangman wants another story and this time, he wants to hear a war story. So, Nathan Hale will tell him the story of the Great War and it will be entertaining, he promises.
One of the 2014 releases I was most sad to miss in my Year of No Library Books was this, the latest Hazardous Tale from the truly amazing Nathan Hale (yes, that's his name). It was at the top of my list to check out once the year was over and when I spotted it sitting on the shelf recently (and right before book five was released), I snagged it and devoured it pretty much in one sitting.
Unfortunately, I think this is my least favorite of the Hazardous Tales so far. I think the reason I didn't love this one as much is that Hale here is trying to tell an extremely large story in the same way that he told much smaller stories in the first three books. Trying to tell the complete story of World War I in one graphic novel that clocks in at less than 150 pages is pretty ambitious and it just didn't work for me. Despite his clever use of different animals to represent each of the countries involved, I had a difficult time keeping the countries straight throughout the story. The parts I liked best were when Hale once again focused on a small story - like the story of the hero pigeon, or the quick aside about the Christmas truce. I think trying to cram the entire war into one book just wasn't successful.
However, these graphic novels are still among my favorites. They are extremely eye-catching and appealing, they combine real information with humor and great storytelling, and I always, always learn something I didn't know. I'm thrilled that I almost never see our copies sitting on the shelves at the library - I'm glad kids are loving them as much as I do. I already have book five checked out and can't wait to find a moment to read it. I look forward to seeing what other fascinating historical stories Hale will shine his light on in the future.