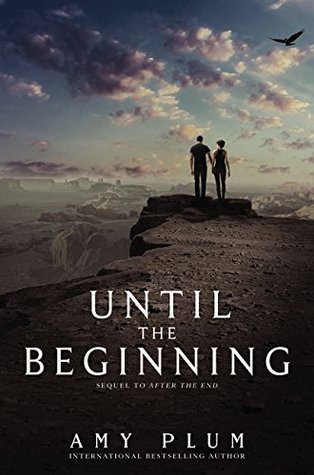 Until the Beginning (After the End, book two)
By Amy Plum
Published 2015 by HarperTeen
WARNING: Spoilers ahead for book one. Read my review of that title.
Juneau and Miles have made a death-defying escape from the men desperate for Juneau's secrets. Literally death-defying - Miles was shot in their escape. Using the secrets of her clan, Juneau has brought him back, but he's not the same person he was before. Can Miles use his new abilities to help Juneau rescue her people?
I was a bit disappointed with the first book in this series - mainly because it didn't answer any of my questions by the time I reached the final page. But, of course, it was only the first book in a series, so I couldn't expect too many answers there. Wanting to know the full story, I requested the sequel as soon as it was available in my library and sped through it.
I'm pretty sure this is it for the series - a duology instead of a never-ending series. I'm pleased with that, though I can still see potential for more volumes in the future. I hope Amy Plum leaves the story here - I think it came to a good conclusion with these two volumes. The story is very compelling and fast-paced - I think it only took me a couple hours to read this second book. I think the dual narration helps keep the story moving along. Switching back and forth between Juneau and Miles' narrative keeps things moving and allows slightly different stories to emerge. Both characters are moving through their individual arcs and readers can easily see them both through the alternating chapters. Both characters undergo a lot of change throughout this book and I think their individual journeys were well-executed.
However, there isn't really a lot of tension in this book. It never really feels like a question as to if Juneau will free her clan; it's more a matter of when. There also doesn't seem to be any tension regarding what will happen between Miles and Juneau - the development of their relationship seems a foregone conclusion. I can see that this lack of tension may lessen a reader's interest in the book. For me, the writing is easy and the story engaging enough that it didn't dampen my wanting to read through to the end. This was kind of an escapist book for me, not complicated but still with enough unique aspects to keep my attention.
Overall, I enjoyed this series, mostly for its unique take on earth magic. I think fans of adventure stories or dystopian fiction would enjoy these books and I'm interested to read what else Plum has written.