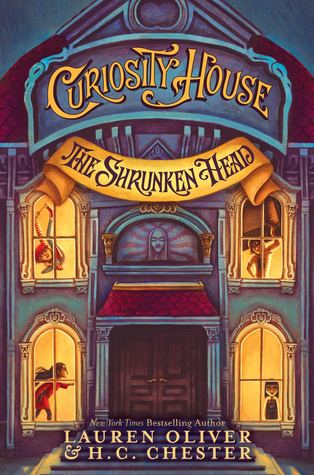 The Shrunken Head (Curiosity House, book one)
By Lauren Oliver and H.C. Chester
Published 2015 by HarperCollins Children's Books
Reviewed from e-ARC
Welcome to Dumfrey's Dime Museum of Freaks, Oddities, and Wonders - or, as Philippa, Sam, and Thomas like to call it, home. But when Max arrives, all sorts of strange things begin to happen, and a chain of events is set in motion that will change the lives of all four children and the fate of the Museum.
So, I really loved Oliver's first foray into children's lit and I'm always into a museum of oddities. I couldn't resist downloading this galley when it became available. It's easy for me to see how appealing this book will be to middle grade readers - tons of action and adventure, lots of mysterious secrets uncovered and hinted at, the notion of being different and not quite fitting in but longing to find the place where you do, and a museum full of very unique characters. The action keeps the plot moving along at a brisk pace - I think it took me two hours to read this one - and there are lots of things to keep kids guessing. The pasts of all the children are still a mystery, so it's clear that will be explored more in future volumes. There are enough hints, though, to definitely pique interest. The characters are all very well developed and I loved getting to know all of them, not just the children. It's a fun book and I'll be interested to see where it goes from here.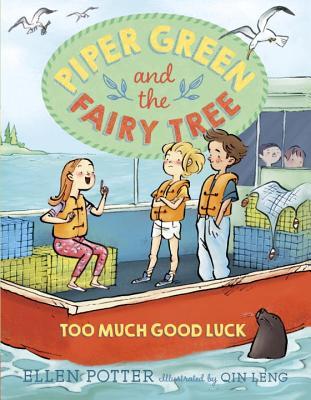 Too Much Good Luck (Piper Green and the Fairy Tree, book two)
By Ellen Potter, illustrated by Qin Leng
Published 2015 by Knopf Books for Young Readers
Piper is having an extremely lucky day. Too bad her friend Jacob is going to rain on her parade - doesn't Piper know that sometimes too much good luck is bad luck?
This is not really a middle-grade read; it falls more into the beginning chapter book category, but I read so few of those books every year that I figured I'd stick my review in with this batch. I quite liked the first book in the series and book two published simultaneously, so I didn't have to wait long to pick it up. I liked it just as much as book one. Piper is a delightfully realistic narrator - I find her quite charming. I also like that the adults are actually a presence in these books; often, children's books find it more convenient to ignore the adults in their young character's lives. I think Potter does a great job of including them here without moving the focus from our young protagonist. Once again, Piper is dealing very authentically with a realistic experience and I think Potter absolutely nails the emotions of a kid this age. I can't wait for book three!
Switch (Savvy, book three)
By Ingrid Law
Published 2015 by Dial Books
Gypsy can't wait for her savvy, but on her thirteenth birthday, it turns out to be nothing like what she expected. Soon, everyone's savvy has gone haywire and the mixed-up savvies put Gypsy and her family in a dangerous crisis. Can she figure out how to fix everything before it's too late?
I was extremely excited to read this book from the moment I discovered its existence -
Savvy
is one of my favorite middle-grade reads and I enjoyed
Scumble
as well. I was pleased and surprised that there would be a third book set in the same world. I love that each can stand alone but that they also work together so well. I really, really enjoyed this one. I thought Gypsy was a wonderful character - actually, I thought all the characters were great. Gypsy goes through a lot of growth in this book and it works wonderfully - it doesn't feel preachy; it feels difficult and true. I love the combination of fantastical problems butting up against real-life problems - in this case, switched up savvies and a grandparent with Alzheimer's. It gives the book a greater depth and makes a potentially scary topic a bit more approachable for a middle-grade reader. It's a lot of fun - Gypsy and company go on some crazy adventures while trying to prevent a disaster from happening - but it's also quite poignant. A delightful read!
Serafina's Promise
By Ann E. Burg
Published 2013 by Scholastic Press
Serafina wants to become a doctor, but her life in Haiti makes that dream more complicated. And when a life-changing earthquake hits, will Serafina ever find a way to make her dreams come true?
I'm a sucker for a novel in verse and this one was on our state reading list a few years back, so it wasn't a hard choice for me to pick it up. It was a quick read, as verse novels often are, but not a light one. I liked reading about a place that I know very little about - with the verse, Burg made it very easy to get a picture of life in Serafina's Haitian village. Just like every American life is unique, I'm sure every life in Haiti is as well, but I liked shining a little light on this particular life. I thought the tough topics were dealt with quite well and, perhaps what I liked most was how hopeful the whole thing is. Serafina's life is not easy, not at any point in the novel, but she never loses hope. Yes, she stumbles and doubts, but ultimately, she believes she will find a way. I don't go in much for relentless optimism but I thought it worked well here. Eye-opening and heartwarming.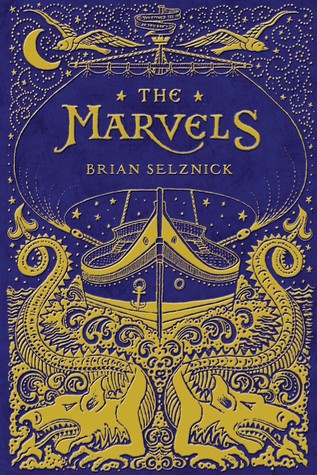 The Marvels
By Brian Selznick
Published 2015 by Scholastic Press
This is the story of the Marvels, a theatrical family that spans many generations before seeming to disappear. It's also the story of Joseph, a boy whose run away to his estranged uncle. The mysteries he finds will tie him to the Marvels in unexpected ways and will certainly change his life.
A new Selznick is always cause for celebration, so I was delighted to discover one releasing in 2015. I read it almost as soon as it arrived at our library. I think his books get better after you step away from them for a while. Immediately after finishing this one, I told a coworker that I thought it lacked the magic of his earlier books. Now, several months later, I find myself marveling (OH YEAH, PUN INTENDED) at how Selznick managed to weave the threads together so well and tell such a compelling and beautiful story. I'm, of course, endlessly amazed by his artistic abilities - seriously, I could stare at the first half of this book for hours, it's just so blooming gorgeous. But Selznick has serious narrative chops as well, a fact that I think gets overlooked in the face of his stunning imagery. I'm in the midst of reading his May Hill Arbuthnot lecture, where he talks about how his books are all essentially variations on the theme of finding and defining one's family and I'm impressed at this astute observation while also in awe because his books all tell that tale so uniquely. The relationship between Joseph and his uncle is complicated and fraught and develops wonderfully here and provides the most heartbreaking ending to this story. Truly, truly beautiful.
My Diary from the Edge of the World
By Jodi Lynn Anderson
Published 2015 by Aladdin
Reviewed from e-ARC
Gracie has lived in Maine her whole life and it's been mostly unremarkable - as long as one avoids the dragons, Sasquatches, and mermaids. But now, the unthinkable has happened - a Dark Cloud has come for her baby brother, and once a Cloud chooses a person, inevitably, they will die. But, Gracie's family is nothing if not determined, so they set off to find a supposedly mythical place - the Extraordinary World, where things like dragons and mermaids and Dark Clouds are the myths.
I thought the premise of this sounded phenomenal - a world exactly like ours but with mythical things being real. It's told in diary format, a very popular choice, and I think it works well for this story. Gracie is a delightful narrator - she is very particular but she also loves her family with such clear devotion that it's absolutely charming to read. The adventures that the Lockwood family undertakes are fun but also suspenseful - will they find a way to get to the edge of the Extraordinary World? Does it even really exist? Can they outrun the Cloud long enough to find out? As an adult, the twist of the book was unsurprising, but it was still very emotional and poignant. Overall, I think the book is a good balance of fun and feeling. Definitely an easy sell to readers.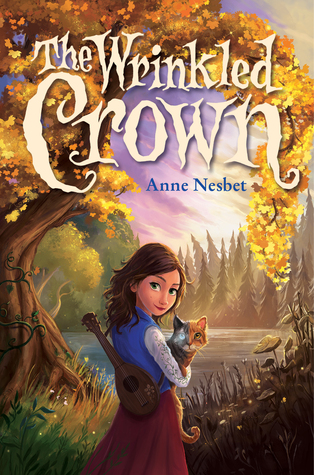 The Wrinkled Crown
By Anne Nesbet
Published 2015 by HarperCollins
Reviewed from e-ARC
Linny knows the rules, but she just can't help herself - not only has she touched a lourka (absolutely forbidden for girls under the age of 12), she's made one from scratch! But if only people understood that she had to, maybe they wouldn't be so cross. Unfortunately, her rule-breaking has endangered her best friend and now Linny must travel to the city and hope to find a way to save Sayra from Away.
This was a bit confusing for me at times - the contrast between Plain and Wrinkled seemed a bit too obvious a metaphor but also not terribly well explained. There are a lot of people who want to use Linny for their own purposes in the city and, for me, this just muddled the central conflict a bit too much. I really only cared whether or not Linny would find the medicine to save Sayra. As of right now, this book is not listed as part of a series on Goodreads, but with all the discussion of war and the mysterious Girl with the Lourka, it seems set up to head in that direction. I don't know if the book had enough pull for me to want to come back to an additional volume, but, as I said, that's just me speculating. This volume was a bit scattered and all over the place and not quite as charming as I expected from the cover and the first couple chapters. Maybe it just got a bit too heady for me. Still, Linny is a fun character and her overwhelming desire to save her friend was so heartfelt that it made me feel like a terrible friend (surely not the book's intention). I think there is definitely an audience for this; it just barely missed the mark for me.