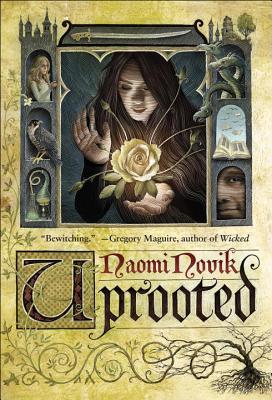 Uprooted
By Naomi Novik
Published 2015 by Del Rey
Reviewed from print ARC
Agnieszka loves her village, though she doesn't love the Dragon who lords over it. Every ten years, he chooses a village girl and she never returns. She knows that, with her plain looks and seeming lack of skills, he won't choose her, but she worries for her beautiful, graceful, talented best friend Kasia. Of course, when the Dragon arrives and makes his decision, neither girl will ever be the same.
So, I'm still not entirely clear on whether this was pubbed as teen or adult, but I thought it was being published as YA, so that's what I'm going with. Anyway, I loved everything about this book - the lush language, the brilliant characters, the complexity of the plot, the emotions throughout - I loved it all. I tore through this book and didn't want it to end. I am actually thrilled that I've never read Novik before, because now I have so much to look forward to! Absolutely one of my favorites of the year.
Shades of Earth (Across the Universe, book three)
By Beth Revis
Published 2013 by Razorbill
SPOILERS FOR THE FIRST TWO BOOKS.
Amy and Elder and the rest of those on board Godspeed have finally reached their destination. But just what awaits them there?
One thing I want to do in the new year is finish up series I've started (where possible) and not have so many loose ends hanging around out there. I was happy to plow through the final two books in this series earlier this fall - one less end to tie up. I thought this was a good conclusion to the series, which as a whole, I enjoyed more than I anticipated I would. I liked the unknown planet aspect of this story, but I found the character twist to be incredibly obvious. My husband liked it more than I did.
Cut Both Ways
By Carrie Mesrobian
Published 2015 by HarperCollins
Reviewed from e-ARC
Will is pretty clueless when it comes to romance - so he's more shocked than anyone when he ends up making out with his best friend Angus. But, he's not gay, right? Because then he meets Brandy, and he definitely likes kissing her. So, is he bi? All he knows is that he doesn't have it in him to give up either of them because they are the best things in his life.
I read Mesrobian's debut novel and then nothing since then, but this one sounded interesting and I had an ARC, so why not? I'm always looking for more books dealing with the complexities of sexuality. I really enjoyed this one, though it's less focused on Will's sexuality than it is on Will's familial relationships and his growing up. Maybe that's what I liked about it - yes, he is struggling to figure out his sexual identity, but at the same time, Mesrobian lets readers know that that's not the only way he defines himself and he's also got all this other stuff going on and really life is pretty damn complicated. I like that there was no easy answer at the end of this one, but, if my coworker is any indication, I can also see why this has so many negative reviews on Goodreads. For as much as it's billed as a book about bisexuality and a love triangle, it's not really a book about either of those things, and readers coming into it looking for that are likely to be disappointed. I thought this was an incredibly realistic portrayal of a teen guy, dealing with a lot of junk in his life. I'll continue to watch Mesrobian's career.