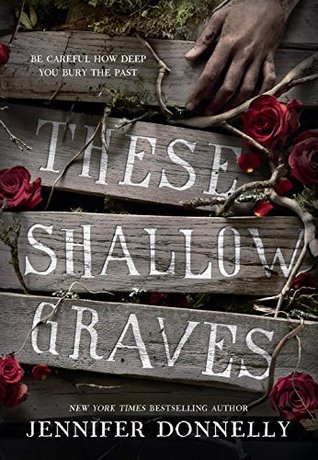 These Shallow Graves
By Jennifer Donnelly
Published 2015 by Random House Delacorte
Reviewed from e-ARC
Jo wants to be a reporter, but that's simply not an option for well-to-do young women in the 1890s. But when her beloved father dies, Jo senses something suspicious - and she'll put her investigative skills to the test to uncover the truth.
I certainly love me some historical fiction and I generally enjoy headstrong female characters, but this book didn't really work for me. I mostly felt bored while reading this and I can remember several instances of rolling my eyes at the text also. The book is excessively long - nearly 500 pages - and I really felt every one of those pages. A lot of the action is quite tedious and repetitive. I didn't care terribly much for Jo and I absolutely did not believe in her romance with Eddie. The mysterious was never terribly mysterious and the historical setting felt like set dressing more than a fleshed out world. After my disappointing experience with
Revolution
and now this, it would take an awful lot to convince me to read the next Donnelly.
Belzhar
By Meg Wolitzer, read by Jorjeana Marie
Published 2014 by Listening Library
Jam wishes more than anything that she were back at home with her boyfriend Reeve, but instead, she's at a bizarro boarding school in rural Vermont and Reeve is dead. To top it off, she's enrolled in a mysterious class - Special Topics in English. When a journal-writing assignment leads Jam to Belzhar, she must decide which truth she wants to live.
I'd heard lots of good things about this one and had enjoyed another audiobook from Wolitzer, so it seemed natural to pick this up when I needed a new listen. It was mostly what I expected - almost ethereal writing with magical realism - and then, suddenly, it wasn't at all what I expected. I had no idea that Jam was an unreliable narrator and I definitely didn't see the truth coming at all. Once the secret was revealed, though, it changed my view of the book. The people that Jam befriends at the boarding school have real problems - not to minimize the trauma of rejection, but Jam's tragedy really didn't compare for me. I'm fully willing to accept Jam's depression over her perceived loss, but if she has created the reality for herself that readers have seen up until the twist is revealed, then she has significant mental issues that will require much more work for resolution than Wolitzer gives her in the end. Ultimately, I liked the book well enough, but would have enjoyed it more without the twist.
Vivian Apple Needs a Miracle (Vivian Apple, book two)
By Katie Coyle
Published 2015 by HMH Books for Young Readers
Probably spoilers for book one ahead.
Vivian and her friend Harp have uncovered what they believe to be the truth about the Church of America and now, they'll stop at nothing to make the public see what they do.
I enjoyed the first book in this duology well enough that I put the second on hold as soon as it showed up in our library catalog. I was a bit more hesitant this time around - the ending of the first book had been a bit of a hot mess, so it was difficult for me to see where it would go from there. Fortunately, I enjoyed this book much more - perhaps because I already knew some of it would be difficult to swallow? I thought the characters really fleshed out in this one, and the relationship between Viv and Harp is quite delightful to explore. I also really enjoyed getting to know Winnie and seeing that relationship grow. In the end, I'm quite pleased that this is just a duology - I thought the ending here was perfect for the two books.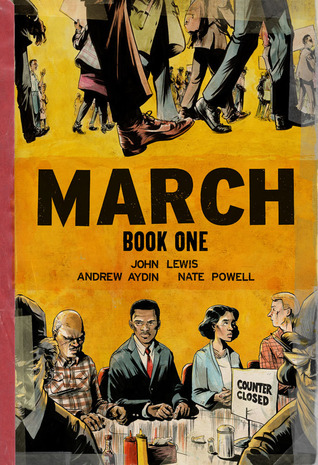 March, Book One
By John Lewis, Andrew Aydin, and Nate Powell
Published 2013 by Top Shelf Productions
John Lewis is a name all Americans should know - a powerhouse in the civil rights movement and later a Congressman. Now, he recounts his story, beginning with his youth and his early entry into the fight for civil rights.
I'm classing this a YA book because I think it will have most appeal for that audience, but I loved it as an adult and I don't think there's anything that would prevent me from handing it to a capable middle-grader. Perhaps the only thing I didn't enjoy about this is the frame story - Lewis is recounting his youthful experiences to a young boy he meets just prior to attending an important event. It felt unnecessary to frame the story this way, though I understand that one of Lewis's goals is to reach a young audience and make it accessible. As a grown person, it just felt a bit hokey. However, that's really my only complaint about this otherwise captivating graphic novel. The art is a perfect match for the story and the story is gripping, heartwrenching, and eye-opening. I am very, very much looking forward to picking up volumes two and three.
Light (Gone, book six)
By Michael Grant
Published 2013 by Katherine Tegen Books
It's time for the final battle. Can the kids of the FAYZ defeat the gaiaphage once and for all?
HOLY CATS, Y'ALL - I FINALLY FINISHED THIS SERIES! I am so thrilled to be able to cross this series off my list and, wow, this final volume really held nothing back. As I've said in my various reviews for the series (here's the
last one I did
), what I enjoy most about this series is how much I actually care about the characters. This final volume is no different - and with the stakes so high, I really cared about what happened to each of them. Yes, some do not survive, particularly in this last battle. And yes, you will care one way or the other about everyone's fate. Even though I was decidedly not surprised about who made the ultimate sacrifice, I still think Grant did a wonderful job with this series. I enjoyed the "aftermath" section - I always loved movies with little epilogue-type bits that tell you where all the characters ended up later - though with such a large cast, not every character was included in this section. An extremely satisfying conclusion to an excellent YA series.