Nightborn (Thrones and Bones, book two)
By Lou Anders
Published 2015 by Crown Books for Young Readers
Karn is ready to get back to what he's good at - gaming. Yeah, the adventures he had with his new best friend (and half giant) Thianna were pretty cool, but he could use some peace for a bit. Unfortunately, that's not in the cards, and now Karn is off on a rescue mission, using all his resources to find Thianna. Little does he know that someone is on his trail - and with much darker intentions.
I read
book one
of this series prior to its release and, as I'm trying to be a bit better about keeping current with series, I read book two shortly after it came out. Much of what I enjoyed about book one was repeated in book two - the characters are immensely relatable, the action is non-stop, and the pacing is excellent. In my review of the first one, I expressed some hesitancy about it becoming a series - I think Anders believably drew both of the original characters into a new journey. I was pleased with the introduction of new characters as well - I thought they added to the story. The continuation of the story still seems to have an obvious direction, so we'll see what the next volume brings.
Will Sparrow's Road
By Karen Cushman, read by Katherine Kellgren
Published 2012 by Listening Library
Will Sparrow is running away, in search of a better life. On his journey, he meets a cast of colorful characters, but will he find someplace to settle in for good?
I remember having a passing interest in this when it was released, as I do with most historical fiction. This focused on a time and place I knew very little about. So, when looking for something new to listen to, I stumbled on this one - and narrator Kellgren sealed it for me (she's AMAZING). I found this rather unremarkable, though, and, as I write this review, months later, I'm hard-pressed to remember anything of significance about the book. I do remember being mildly impressed about early appearing characters reappearing later in the book and I thought Will was quite realistic (though he felt a little young at times, particularly for his time period). I can definitely see this having more appeal to younger readers, for whom a lot of the historical information will be new and surprising (though I wasn't familiar with this PARTICULAR time period, it felt quite similar to others I know a bit more about). Overall, though, a mostly forgettable read.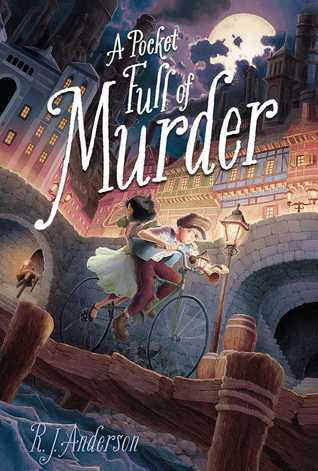 A Pocket Full of Murder (Uncommon Magic, book one)
By R.J. Anderson
Published 2015 by Atheneum Books for Young Readers
Reviewed from e-ARC
Isaveth's father has just been arrested for murder and she'll do everything in her power to prove his innocence. Luckily, she befriends street-wise Quiz, and together they investigate the murder, which may be more complex than it initially appeared. But does Quiz have his own secrets that may put Isaveth in danger?
I want to read pretty much every middle grade speculative fiction book that I discover, which is a near impossible task. But I do make time for as many of them as I can. This had a lot of complexity to it that I wasn't expecting - dealing with issues of poverty and classism, religious intolerance, sexism, and murder. Oh, and fan-fiction. Yes, it's a bit all over the place, but it's mostly an intriguing ride. Some of the weightier issues slow down the action of the plot a bit, which might be frustrating for readers in the target audience - then again, they open the book up for some excellent discussion. I did not see the twist with a character's identity coming, but it certainly added a new depth to the plot. I'm not sure how I feel about this being first in a series - we'll see when book two is released how compelled I feel to pick it up.