Dark Shimmer
By Donna Jo Napoli
Published 2015 by Wendy Lamb Books
Reviewed from e-ARC
Dolce has grown up an outsider but a tragedy gives her a new lease on life in a place where no one knows her past. Unfortunately, secrets have a way of revealing themselves. Will Dolce get her happy ever after?
I am always ready for a fairy-tale retelling and this one's medieval Venetian setting only made it more intriguing. I liked that it wasn't entirely obvious from the beginning exactly which fairy tale is being retold - there are hints for several early on and it's fun trying to guess which one it will actually be. Once it's clear which tale we're hearing, it's obvious which character we're getting to see another side of, and I really enjoyed that. For me, the second part of the story was not as strong as the first - I appreciated the variety of POVs in the second part, but Dolce's story is the one I was most interested in. The setting is extremely well-done - I've been to Venice and I recognized several things in this novel. This was a decent retelling, but nothing spectacular.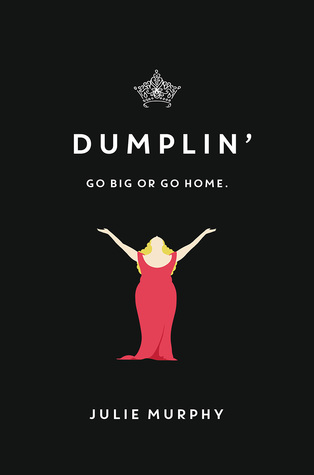 Dumplin'
By Julie Murphy
Published 2015 by Balzer + Bray
Reviewed from e-ARC
Willowdean has always been pretty comfortable in her own skin. But when her crush actually likes her back, she begins to doubt herself. Will entering herself in the local beauty pageant (run by her mother, a former pageant queen) help her get her confidence back?
I hate to admit it, but I was underwhelmed by this. Maybe the buzz machine killed it for me - I heard so much early praise for this one and nearly all of it was extremely high praise. While I really enjoyed the book, it didn't quite live up to my lofty expectations for it. I thought Willowdean was an awesome character - she felt incredibly realistic and just a lot of fun to read about. I liked the other female characters a lot as well, and I appreciated the relationships explored between Will and her aunt and Will and her mom. The romance was sweet, though it felt like probably the least authentic aspect of the book. I really liked the journey that Will makes during the book and I loved the end. So, it didn't quite live up to all my hopes and dreams for it, but I still enjoyed it. I'll happily read more by Murphy in the future.