The last of 2015 and then we move on to what I'm reading this year!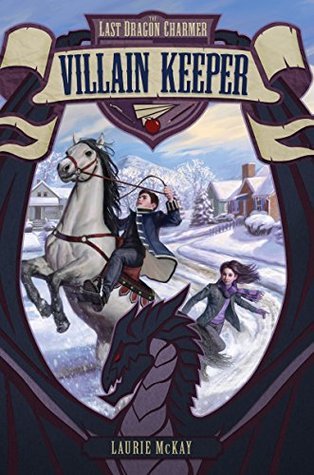 Villain Keeper (The Last Dragon Charmer, book one)
By Laurie McKay
Published 2015 by HarperCollins
Prince Caden is just about to embark upon the quest he's waited for when he is torn from his kingdom and deposited in Asheville, North Carolina. The most unmagical place that exists. Or is it? For soon, it seems Caden didn't end up in Asheville by chance. And perhaps his destiny isn't quite what he imagined it to be.
By now, y'all should know my weakness for middle grade fantasy. So, when I saw this one, I could hardly resist. I had the e-ARC but didn't get to it before it expired, so I finally picked up the finished copy in December, squeezing it in before the end of 2015. By far, the most enjoyable aspect of this novel is the fish-out-of-water experiences of Caden - his incredulity at many of the Asheville happenings was delightful to read. I also greatly enjoyed his relationship with Brynne, and the one he develops with Tito. And I liked that Asheville is not exactly what we know it to be - it has definite ties to Caden's magical kingdom that are unexpected and very interesting. Honestly, this book isn't treading any new ground, but it's a mostly delightful romp all the same. I'll be back for the sequel, eager to see what new foe Caden, Brynne, and Tito must face.
Secret Coders (Secret Coders, book one)
By Gene Luen Yang and Mike Holmes
Published 2015 by First Second
Stately Academy is a bit of an unusual school. Soon Hopper and Nikhil find themselves intrigued by the many mysteries they discover at the school and set out on a quest to solve them.
It's usually a guarantee that I'll pick up the latest book by newly named Ambassador for Young People's Literature Yang. I wasn't sure how I'd feel about this one, since I'm definitely not into coding at all. I was pleasantly surprised after finishing this. It integrates the coding directly into the plot in a way that is interesting and informative without feeling heavy-handed. It's educational while still being entertaining and I'm thoroughly impressed by how much I enjoyed reading this. I'm very much looking forward to picking up the next volume!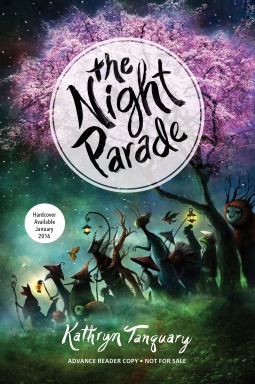 The Night Parade
By Kathryn Tanquary
Published 2016 by Sourcebooks Jabberwocky
Reviewed from e-ARC
Saki is not excited to be spending her summer at her grandmother's countryside home. Things begin to look up when some local kids take an interest in her, but their idea of fun may have awakened the spirits of her family's shrine. Now Saki has just three nights to stop a death curse from coming true.
This was the first 2016 book I read, finishing it in the last couple of weeks of 2015. I was intrigued by the Japanese setting and lore (and also by the lovely cover). I enjoyed Saki's journeys through the spirit world, though Saki herself was a bit difficult to handle at times. I think the author did a wonderful job of evoking the spirits and scenery of the night parade, and I loved learning about the different mythological beings. I didn't understand why these beings were sometimes referred to by their Japanese names and sometimes by English descriptions (the kitsune is the clearest example to me, as I knew its Japanese name even though Tanquary doesn't use it). The ending was quite tidy, but I found this mostly enjoyable, if a bit less remarkable than I'd hoped.
The Dreadful Fate of Jonathan York: A Yarn for the Strange at Heart
By Kory Merritt
Published 2015 by Andrews McMeel Publishing
Jonathan York has led a mediocre life but that's about to change. The night he gets lost in the woods, he'll discover things he never could have believed existed. Maybe Jonathan York will discover he's not so mediocre after all.
I picked this up because I thought I fell into the category mentioned in the title: "strange at heart." This book, indeed, is quite strange and I'm not sure I loved it. I can definitely get into weird (
Grasshopper Jungle
being one of my favorite books of the last few years) but this one just didn't quite work for me. I guess, firstly, I found it odd that an adult is the main character of this story, which is published for a middle-grade audience. That is itself is not terribly unusual (think Mary Poppins, Mrs. Piggle-Wiggle, etc.), but the other adult main characters I've read in children's novels tend to have frequent interactions with kids. This is not true of Jonathan York; there are no children in sight here. I do think the blend of horror and silliness will appeal to kids and the message (every adventure gives you a story to tell) is sweet. I just wish I'd enjoyed it a bit more.
The Pillars of Ponderay (Balance Keepers, book two)
By Lindsay Cummings
Published 2015 by Katherine Tegen Books
Spoilers for book one possibly.
Albert isn't expecting to return to the Core so soon, but a dangerous imbalance makes it imperative for his team to once again prove their mettle. This imbalance is worse than any seen in the Core in many generations, though, and, worse, it appears to have been created by a Balance Keeper. Can Albert and his friends correct the imbalance before it's too late? And will they discover who might be behind it?
Having read and enjoyed book one in 2014, I put my request in for book two when it was released in 2015. It took me some time to actually get around to it but when I finally did, I found it much as I had with the first book. Once again, I think Cummings handles the pacing really well - the book flies by and maintains reader interest the whole way through. I still think the world she's created it unique enough to be a draw in itself for fantasy readers who may have read widely in the genre. I still find the plot mostly predictable and unsurprising, but I don't find it any less enjoyable for being so. I liked the addition of a saboteur in this volume; I'll be interested in seeing that play out through the rest of the series. Readers who enjoyed the first will certainly like this volume as well.
Mouse Scouts (Mouse Scouts, book one)
By Sarah Dillard
Published 2016 by Knopf Books for Young Readers
Reviewed from e-ARC
Violet and Tigerlily are very excited to join Mouse Scouts and are eager to earn their merit badges. They soon discover, though, that earning badges is hard work. Will they find a way to work together and get things done?
So, the final middle-grade book I read in 2016 is actually not a middle-grade book at all. This is the first in a new beginning chapter book series. I downloaded the digital galley because I was a Girl Scout for my entire childhood and I thought it sounded like a really cute idea - a play on that, with animal characters, of course. It took me about 30 minutes to read this first volume - it's got plenty of pictures and a mostly simple vocabulary for readers just starting on chapter books. The story itself is cute enough; I enjoyed that the Scouts soon discover their garden is susceptible to danger from other creatures, and the small detail that they should focus on growing things that come in miniature sizes. A sweet little story and I'm sure it will be a hit. By focusing on a different merit badge every volume (presumably), readers will be entertained while they learn something!