Finally! The last of my reviews of books I finished in 2015!
The Trouble with Destiny
By Lauren Morrill
Published 2015 by Delacorte
Reviewed from e-ARC
Liza is not about to be the first drum major to let down her band; as the first female drum major, she definitely feels like she's got something to prove. So, when she discovers that the band is losing its funding, she enrolls them in a cruise ship contest. But pretty much everything that can go wrong does. Can Liza save the band?
I'd never read a book by this author before, but I thought the premise sounded fun: a cruise ship music contest with promises of romance thrown in. Why not give it a try? Unfortunately, I was less than impressed. There's nothing terrible about this book - it's just all overwhelmingly predictable. The romance is perhaps the plot point most guilty of predictability; it seems a foregone conclusion from the first page. Liza's rivalry with her ex-best friend was also predictable and mighty stereotypical. Liza reminded me too much of myself. Normally, this probably wouldn't be a bad thing, but Liza's need to keep everything to herself and solve everyone's problems on her own while becoming extremely anxious about this very fact reminded me too much of the anxiety swirling around in my own mind 24/7 to be anything less than more stressful. Just not a great book for me.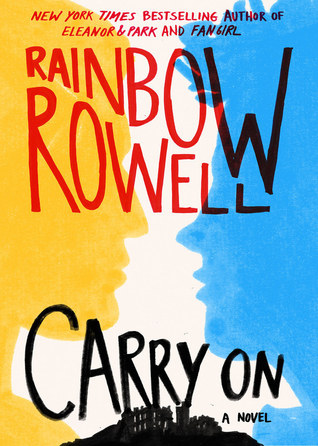 Carry On
By Rainbow Rowell
Published 2015 by St. Martin's Griffin
Simon Snow is The Chosen One. Unfortunately, he sucks at it. The surprisingly worse news is that her roommate and archnemesis, Baz, is not here to revel in his suckitude. Simon's not sure why this is worse, but soon, he finds himself desperate to locate Baz. Add to that the magic disappearing and Simon's year is off to a terrible start.
Okay, I absolutely ADORED
Fangirl
- I even got my copy signed by Rowell at an ALA conference, I loved it so durn much. So, when I found out she was going to write an actual Simon Snow story? The squees, they were endless, my friends. Fast forward to finally sitting down to read the book and...it's like molasses. I mean, seriously, I know she loves to write dialogue (and she's great at it) but dialogue is generally supposed to make the book move faster. There is almost too much dialogue in this book. And the first 200 pages (basically everything before we hear from Baz) is a beast to get through. Thankfully, once Baz enters the story, the pace picks up, but it sure took a long time to get there. Much like with
Harry Potter
, for me, it's the secondary characters that really shine - Simon was my least favorite of everyone in the book and I really only cared about his well-being because Baz did and I did love Baz so. Other thing I very much enjoyed: the magic being tied to common phrases - how delightful that was! So, I didn't love this nearly as much as I expected to, but still very much a fun and romantic and magical read.
UnBound (Unwind Dystology)
By Neal Shusterman
Published 2015 by Simon & Schuster
Reviewed from e-ARC
A collection of short stories in the
Unwind
world, find out what becomes of Connor, Risa, Lev, and the others.
Actually, that description is a bit bogus because most of these stories take place either before the start of or concurrently with the rest of the books in the series. Regardless - I didn't even know this existed until shortly before its release but I was thrilled upon discovery. I think the
Unwind
series is one of the best I've ever read, and I didn't mind a chance to visit the world again (despite how disturbing that world often is). I thought this was an excellent collection of short stories. It took some minor characters and fleshed them out in fascinating and surprising ways (in a couple instances, it took me a few moments to recall that specific character from the series but, even with my terrible memory, I eventually was able to remember them all - which should say something about how these books have stuck with me). It also gave readers the chance to revisit the major characters and see a glimpse of what their futures might hold. My favorites were the Lev story, the story of the Dah Zey, Miracolina's story, and Cam's story. Highly recommended.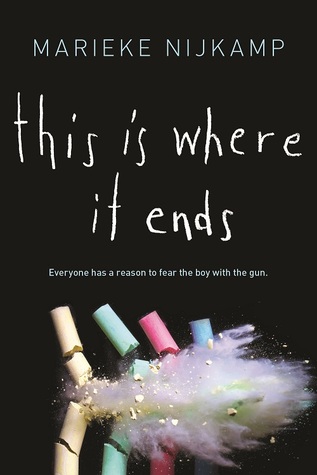 This is Where It Ends
By Marieke Nijkamp
Published 2016 by Sourcebooks Fire
Reviewed from e-ARC
It takes just a minute for life to change forever. A matter of seconds for an ordinary school assembly to turn into a terror-filled nightmare. And it takes just one boy and his guns to make it happen.
I don't read as much realistic fiction as fantasy, but I do enjoy it. Having initially entered college as a psychology major and generally being a concerned citizen of the world, heavy topics like mental health, eating disorders, addiction, schools shootings, and others fascinate me. I was interested in seeing how this book - told in the space of about an hour during the shooting - handled a tragedy from multiple perspectives. Ultimately, I don't think there was anything exceptional about this book. The characters we are introduced to all seem a bit stereotypical and generic and the perpetrator of the act is perhaps given the most shallow treatment of all. I'm not saying we should focus on the perpetrators over the victim - I am saying that the psychology behind a school shooting is generally more complex than this novel would have you believe. Additionally, much of the writing in this book leans toward sensationalism - moments that are completely unbelievable occur with alarming frequency in this narrative, all there simply to ramp up the tension. Lots of potential here, but the book just doesn't live up to it.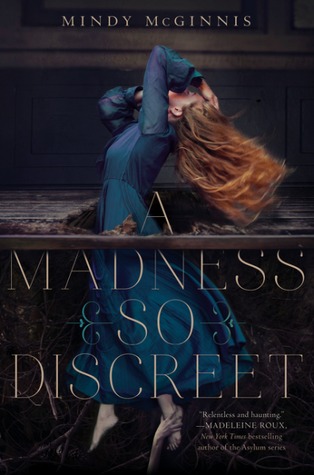 A Madness So Discreet
By Mindy McGinnis
Published 2015 by Katherine Tegen Books
Reviewed from e-ARC and finished copy
Because of a dark family secret, Grace finds herself the newest resident of her local insane asylum. But her special skills are soon discovered by a young doctor, who takes her away from the tortures of the asylum. Is he just subjecting her to new tortures, though, or does Grace actually have a chance at a new life?
This one caught my eye because it was historical fiction with an asylum setting. Yup, sounds good to me. I managed to read about half of the digital galley before it expired and was determined to finish it before 2016 rolled around. When our copy finally arrived at the library, I checked it out and frantically finished the last half of the book. I'm not sure how I feel about this one. I want to say that it's a book about Grace discovering her own agency and using what skills she has to make the best path for herself. But I'm also not 100% convinced that Grace's story isn't entirely dependent on the men in her life - first her father and then Doctor Thornhollow and finally the killer. This book is not at all what I expected - Grace's mental state is generally unquestioned, and this book does not really deal with "madness" in the way I imagined it would. It does deal with it in a different way, as this book turns into a murder mystery that Grace is attempting to solve, but many of the plot threads felt all mushed together and some (like Grace's friendships with the other female residents) could certainly have benefit from greater development. I found the ending quite unsatisfactory as well. I did very much enjoy Grace's friendships with the other female characters and her relationship with Thornhollow is complex and interesting. But not a terribly notable book for me.