I'm trying desperately to finish up these short reviews of my reads from 2015; hopefully with a few more posts, I'll get there.
The Hollow Boy (Lockwood & Co., book three)
By Jonathan Stroud
Published 2015 by Disney-Hyperion
In the midst of an alarming rash of new hauntings, Lockwood introduces a new assistant to their band of investigators, disrupting the status quo.
I reviewed the first two in the series
here
, heaping praise upon them. I think this is an entertaining, funny, scary, and complex series for middle-grade readers. In that previous review, I mentioned that I'd seen several reviews that were a bit harsher on book two for its heavy focus on George. I disagreed, as I enjoy all three main characters equally. However, this third entry in the series tried my patience with Lucy quite a bit. I do not care about potential romantic entanglements for these characters and it seems the main purpose of introducing Holly (the perky new assistant investigator) was to rile Lucy's feelings of jealousy with regards to Lockwood's attention and devotion. I spent a great deal of this book very frustrated with her, though I can't deny that her actions and feelings seemed genuine. I wanted Stroud to focus more on the supernatural happenings than on the character clashes. Regardless, I still mostly enjoyed it and am once again waiting for the next installment.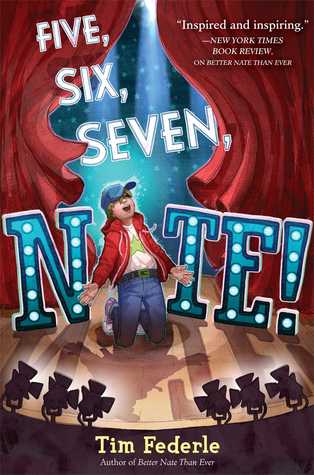 Five, Six, Seven, Nate!
By Tim Federle
Published 2014 by Simon & Schuster Books for Young Readers
Nate's Broadway dreams are about to come true - or are they? When a series of potential disasters befalls
E.T., The Musical
, Nate will do everything in his power to make sure the show will go on.
I very much enjoyed
Nate's first adventure
and finally got around to picking up the sequel this fall. I was not disappointed. Everything I loved about book one was once again present in book two, perhaps even more so. Nate is so perfectly charming and enthusiastic that I think it's impossible to hope for anything but the best for him. I loved his clumsy missteps on his path to achieving his dreams; they felt completely believable. I also enjoyed the bit of romance that shows up in this book; it was so heartbreakingly awkward and sincere, I felt like the Grinch when he finally understands what the Whos are all about. I may or may not have teared up reading this one. I cannot wait to see what Federle does next!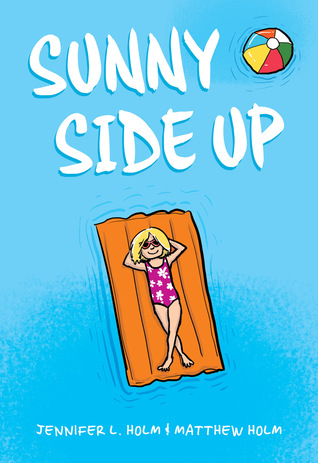 Sunny Side Up
By Jennifer L. Holm and Matthew Holm
Published 2015 by GRAPHIX
Sunny is headed to Florida for the summer and she imagines it'll be Disney World every day. She's wrong. Instead, Sunny is stuck at Grandpa's retirement village, with only one superhero-obsessed kid to keep her company. But why is she in Florida in the first place?
I'm a huge fan of the Holms and their previous work (love Babymouse and Squish), so I was thrilled to see them taking a bit of a different direction with a more realistic story. A much more realistic story, as a matter of fact - I won't give it away, but the reason Sunny is in Florida is a bit dark, so be mindful when recommending. That's not to say there's no humor - there are, of course, bits of Holm humor throughout. I really liked the art here - a more muted color palette in the flashbacks to set them apart - I thought it suited the story. Ultimately, with the clamor for graphic novels in the Holm/Telgemeier vein, I imagine this will fly off shelves.
Space Dumplins
By Craig Thompson
Published 2015 by GRAPHIX
Violet's father has gone missing while on a dangerous job and when no one else in the galaxy seems concerned about finding him, Violet makes it her own mission to put her family back together.
This was a little out of my comfort zone - I don't usually do space stories very well. And, at times, the art here was a bit overwhelming - there are lots of colors, lots of strange creatures, and sometimes the pages look a little cluttered with text and art. But, the story was interesting and Violet is a delightful protagonist - fans of Zita the Spacegirl will surely enjoy her. It deals with a surprising amount of complex issues - class, consumerism, politics, etc. - but they are handled extremely well for the target age. And, if I'm not mistaken, it's a bit of a riff on
Moby Dick
with lots of other pop culture references thrown in for savvy readers to spot. As I said, it can feel a bit much at times, so I'd recommend more for middle-grade readers.