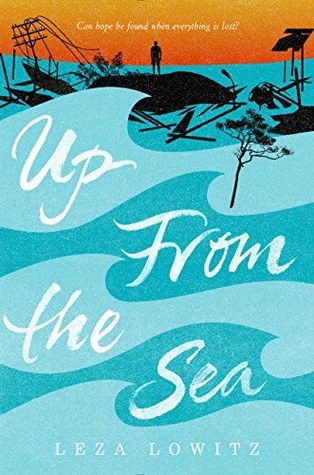 Up from the Sea
By Leza Lowitz
Published 2016 by Crown Books for Young Readers
Reviewed from e-ARC
Kai has practiced for earthquakes and tsunamis but he still never expected to experience one. And the one that hits is more massive than anyone could have predicted. Now, Kai is alone, having lost everything. How will he find a way to go on?
This caught my eye because it's a novel in verse, something I generally find hard to resist. Additionally, I don't read a lot of books set in Asia, and this one takes place during the horrific 2011 tsunami, so I was even more intrigued.
I liked Kai and his grief felt real - he has already been abandoned by his father and now the tsunami has come and destroyed everything else he loves. The way back from all this loss feels impossible. Indeed, I couldn't blame him for not caring much about anything. But I think this is meant to show us how important it is to keep going - even if you think you've lost everything, there are still people depending on you, people whose lives would be changed if you did give up. It's a pretty significant message.
I really liked the connection that Kai makes with children who lost their parents in the attacks of September 11 - the tragedies are different but they have commonalities, another significant message that could bear repeating. We have more in common with each other than we may think.
Though this is a heavy book, I didn't feel as emotionally connected as I expected to - I think the verse format may have inhibited character development in this case. Additionally, I don't care much for soccer, so that story just didn't interest me, though I understand its inclusion. A pretty solid read.
Thanks to the publisher for a digital advance reader's copy, provided via Edelweiss.