Round is a Tortilla: A Book of Shapes
By Roseanne Greenfield Thong, illustrated by Jon Parra
Published 2013 by Chronicle Books
I appreciate authors taking a common theme and focusing on a specific culture. One of my favorites of this is
Golden Domes and Silver Lanterns
. But I enjoyed this one as well - a book of shapes focusing on Latino culture. I liked that the book uses Spanish vocabulary and the illustrations are really vibrant, perfect for highlighting the culture. I also appreciated that the objects highlighted for each shape were more unique than in other shape books I've read. I really enjoyed this one.
Frances Dean Who Loved to Dance and Dance
By Birgitta Sif
Published 2014 by Candlewick Press
I was pretty excited to discover this book, as I thought Sif's
Oliver
was a strange and lovely delight. I feel much the same about this one. Frances loves to dance but she's also quite shy about it. When she meets a young singer, she finally realizes that she should share the love she has for dance with others. It's a very sweet story, and I don't think small children can read empowerment tales enough - I definitely could have benefit from more of them. The illustrations are charming as well - I think Sif has a beautiful style. I'll definitely be looking for more from her.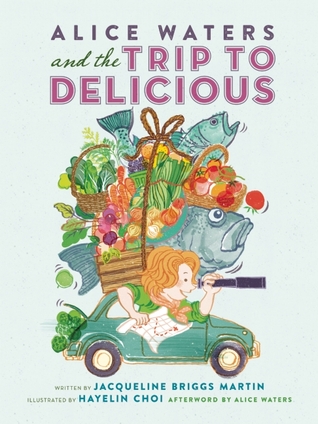 Alice Waters and the Trip to Delicious
By Jacqueline Briggs Martin, illustrated by Hayelin Choi
Published 2014 by Readers to Eaters
I've talked before of my love for non-fiction picture books - you get all the best bits of the story distilled down to something you can read in just a few minutes. I admit to being only somewhat familiar with Waters prior to reading this book, but I adored it. I loved the simple way she thinks about food and her desire to share it with others. I thought Martin did an excellent job capturing her philosophy and making her story easy for young readers to understand. I thought the illustrations complemented the story beautifully - they look delicious!
The Boy in Number Four
By Kara Kootstra, illustrated by Regan Thomson
Published 2014 by Dial
Being a native New Englander, I grew up with an appreciation of both hockey and the Boston Bruins. Bobby Orr means a great deal to Bruins fans, so I couldn't resist reading through this book when it arrived at the library. Unfortunately, it's a disappointment. It is far too simplistic to legitimately serve as a biography of Orr and the writing is trite and pedestrian. The illustrations are lively enough, depicting the action of hockey well, but the text mostly just drags them down. I hoped for much more from this book.