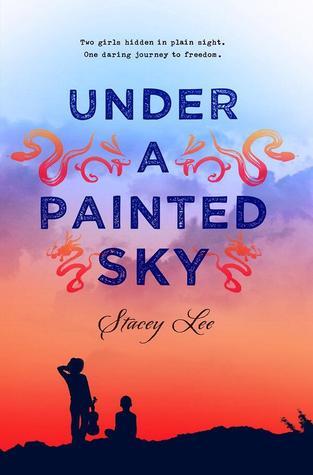 Under a Painted Sky
By Stacey Lee
Expected publication March 17, 2015 by G.P. Putnam's Sons Books for Young Readers
Samantha is not sure if killing a man who's about to rape you counts as murder, but she's not sticking around to find out. See, being Chinese will surely count against her, so she decides to follow her father's dream and head for California. She's lucky for the company of Annamae, a runaway slave, and the two girls disguise themselves as boys, falling in with three cowboys. But none among them could predict the danger and disaster that awaits on the Oregon Trail.
I'm a big fan of historical fiction and, like any kid who grew up in a certain time period, a big fan of the Oregon Trail, so I was delighted to stumble across the e-galley of this book. I downloaded and devoured it recently.
I really enjoyed this one. I loved the unique perspective that Lee gives readers - two women of color, basically alone in the world, relying on each other and themselves (with some assistance from some cowboys who often are more trouble than they're worth) to forge a new way in the world. I loved the relationship between the two girls - they come together through a tragedy but grow to truly depend upon each other. Their differences are many, but I love when they discuss them - their upbringings, their religion and beliefs, etc. It just works so well. While I enjoyed all the characters (the boys are great comic relief), I think the book shines most when Sam and Annamae are enjoying each other's company.
Sam is a wonderful narrator. There are times when she wallowed a bit too much for my taste - obviously she has reasons for her sadness but occasionally, she stayed too long in it when I wanted her to buck up and face the next challenge. Much as I liked the romance, it didn't seem all that necessary and the story would have worked just as well without it. Like I said, the boys were great for comic relief, but I liked that Sam was always trying to figure them out. Their antics also propelled a number of plot twists, but in a believable way.
I think it's clear that this book was researched very well. Nothing felt off or out of place to me. Most of the time while reading, I felt like I was right alongside Sam and the gang, riding horses and learning to rope and shoot a bow and arrow. I did question a bit how quickly Sam gets used to riding, particularly for such long distances at a time, but I guess she didn't have much choice.
The plot is well developed and never lags - I was turning pages as quickly as I could to find out what would happen next. I thought the ending was great - once again, everything just felt incredibly realistic and believable. A book like this could easily be depressing - I mean, life was not easy for anyone, but particularly people of color. But this book is hopeful - I was certainly left with a smile on my face.
An absolute delight and I can't wait to see what Lee does next.
Thanks to the publisher for a digital advance reader's copy, provided via NetGalley.