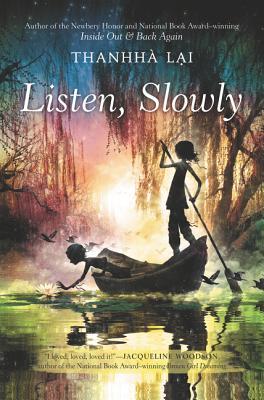 Listen, Slowly
By Thanhha Lai
Published 2015 by HarperCollins
Mia was looking forward to a summer on the beach, working up the courage to talk to HIM. Alas, that summer is not in the cards. Instead, Mia will have to become Mai and travel with her father and grandmother to Vietnam, so that her grandmother can finally find out what happened to her husband in the Vietnam War. Can Mai survive the trip and find a way to be both Mai and Mia?
I was really looking forward to Lai's new book. I enjoyed her debut (
Inside Out & Back Again
) and was curious to see what she would do next. I was a little sad when I discovered that this wasn't a verse novel like her previous title, but only until I started reading.
Because once I started reading, I didn't care that Lai wasn't creating beautiful verse for me to read. It became clear that Lai simply has a way with words, regardless of the structure she puts them into. I fell completely for this book pretty much from page one and didn't want to put it down until I finished.
Once again, Lai has done an amazing job of creating a beautiful and vivid landscape for her characters. To me, it seems obvious that Viet Nam is a place dear to Lai's heart - her loving descriptions of its beauty (and its unpleasantries - all those bug bites!) really shine. I also really enjoyed that the country is a character not just for us readers, but also for Mai. I love that she understands that it seems to have its own way of doing things, whether or not she likes it.
I also really liked Mai/Mia (she mostly goes by Mai in the book). I loved her quirks and her attitude felt pitch perfect for a girl her age. I really appreciated the journey she goes on throughout the novel; I found it very believable. It was incredibly easy to relate to her woes and worries - having to look after her grandmother while her father does noble medical work, wondering if HE knows who she is and will remember her after spending a whole summer apart. I think Mai's interest in the mystery surrounding her grandfather is definitely something kids will relate to - I remember first getting interested in genealogy and stories of my own families' pasts around her age. I thought the development of Mai's relationship with the people around her in Viet Nam was really well done, also. She is hesitant at first, and doesn't think she will have much in common with anyone, but I liked being pleasantly surprised as she discovered things they could share. I also loved the complexities of her familial relationships - here she is, on this journey with her grandmother, to uncover the truth about her grandfather. But her parents won't talk about their own memories of Viet Nam or how they came to the United States, so why should she help when no one will tell her why? The moment when the family finds out what happened to Ong was extremely powerful.
This book was just absolutely lovely to read and I'll definitely be awaiting Lai's next novel.
NOTE: Once again, I don't know how to make diacritical marks here, so my apologies for not having them where relevant.