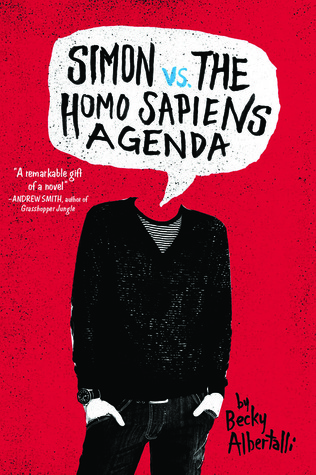 Simon vs. the Homo Sapiens Agenda
By Becky Albertalli
Expected publication April 7, 2015 by Balzer + Bray
Simon is being blackmailed - but he's more concerned for Blue, the boy he's been emailing. The boy he is getting to know bit by bit. The boy with perfect grammar and a willingness to forgive Simon's occasional mistakes. The boy that Simon is maybe falling in love with. So Simon's life is a bit complicated, but he'll do anything to protect his relationship with Blue - and the relationship it could be.
I requested this e-galley because I'm always on the lookout for new GLBTQ fiction for teens and this definitely fits the description.
First, let me say that my summary up there is terrible and please ignore and just read this book because it will make your heart happy. No, seriously. Ignore my terrible attempt to sum up one of the most hopeful, affirming, adorable, charming, and downright delightful books I've read lately and just go read it for yourself. Or, I guess, maybe read the rest of my review and then go read it.
Simon. I feel like that's all I really have to say. If Albertalli doesn't nail Simon's voice, then I don't know what life is anymore. Simon is one of the most endearing characters I've met recently. He is messy and complicated and full of so much longing - longing to keep his life as simple as he can for as long as can. Longing to slow down all the change that seems to have infiltrated his group of friends. Longing to come into his identity on his own terms, not on those dictated by society or forced upon him by someone who can't possibly understand what it's like. And, of course, longing to know the true identity of Blue, the boy who has inexplicably stolen his heart right out from underneath him. I'm almost positive that if Simon were real, I'd already be friends with him. He reminded me so much of people I knew in high school and college, and also of myself.
Because Albertalli has done a remarkable thing: she's made a book with a message that doesn't feel preachy or overbearing. It's a message about the humanity that should live in all of us and it's a direct call-out to those who try to quash it with hatred and ignorance. It's Simon's story, but it's also the story of many GLBTQ teens. With Simon, Albertalli has created a character who shows them it's okay to be messy. It's okay to be angry about coming out and your sexuality and making a big deal out of something when you don't even want to. It's okay to cry when you should be laughing and laugh when you feel like crying. It's okay to be confused about coming out, and it's okay to do it in whatever way feels right to you.
This book will make you cry, but it will also make you smile. It will break your heart and heal it. This book was a delight and I'm so happy to have read it. I can't wait to recommend it to young readers and share it with everyone I know.
Thanks to the publisher for a digital advance reader's copy, provided via Edelweiss.