Once again, I find myself with a handful of books to review that I don't have terribly much to say about. Add the fact that I'm trying to clear out my backlog of reviews before the end of the year and you have another set of capsule reviews!
Saving Lucas Biggs
By Marisa de los Santos and David Teague
Published 2014 by HarperCollins
Time travel books usually make my head hurt if I think about them too much, but I actually enjoyed this one quite a bit. I thought the writing was quite good - the descriptions were lovely and the storytelling flowed very naturally. There is a lot happening in this book, but I never got lost or confused. The book moves at a good pace, flashing back and forth in time in a way that makes sense and propels the story along. I think this is also a great book for discussion, touching upon many topics and issues that are thought-provoking.
Uncommon Criminals (Heist Society, book two)
By Ally Carter, read by Angela Dawe
Published 2011 by Brilliance Audio
I read the first book in this series last spring and have been anxious to get back to it. Since I was trying to adhere to my no library books rule this year, I downloaded the audio version and gave it a listen. Once again, I discovered that I probably shouldn't switch versions partway through - I had a harder time recalling what happened in the first book then I think I would have otherwise. But, once I remembered what had happened, I enjoyed this as much as the first. I love the characters, and I liked the mystery even better in this one. I'm looking forward to picking up the rest of the series eventually, though I'll probably go back to print.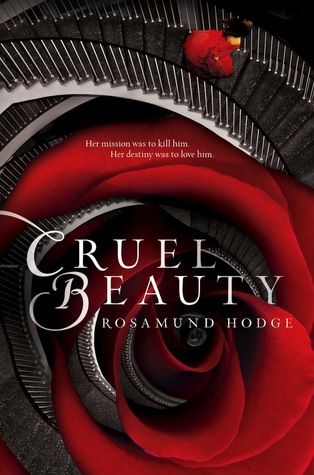 Cruel Beauty
By Rosamund Hodge, read by Elizabeth Knowelden
Published 2014 by Harper Audio
I am always game for a fairy tale retelling, so I downloaded this audiobook, despite a less-than-positive review from a friend. Ultimately, I mostly agreed with her. I thought the mythology was a bit much, which is probably a first for me. It seemed like Hodge tried to cram too many different stories into one book and it just didn't work for me. Additionally, I don't think Nyx's motivations for falling in love with both men were ever explained well and it just didn't work for me. I don't think the worldbuilding was strong enough, either - I never had a true sense of how Nyx's world worked. I was also pretty disappointed in the ending. Hodge has another fairy tale-inspired book coming out next year; I'll probably give it a shot, but I don't have high hopes.
Frank Einstein and the Antimatter Motor (Frank Einstein, book one)
By Jon Scieszka, illustrated by Brian Biggs
Published 2014 by Amulet Books
An ARC of this showed up at the library, so I figured I'd give it a read to have a better sense for recommending it to kids. Unfortunately, Scieszka's books don't really circulate that well in our library, so I'm not sure how much success this book will see. I thought it was cute and definitely has great kid appeal - a science theme (which is very in right now) and a lot of humor, plus liberal illustrations. Unfortunately, it wasn't really as funny as I expected it to be and I found most of the illustrations distracting rather than enhancing. I also thought the plot was mostly pretty boring and Frank was actually a pretty obnoxious character. I don't think I'll be reading book two, but I hope some kids find and enjoy this story.
Twelve Kinds of Ice
By Ellen Bryan Obed, illustrated by Barbara McClintock
Published 2012 by HMH Books for Young Readers
When this book first came out, several people mentioned it in the same breath as the Newbery Award. I was definitely intrigued. Despite its short length, I didn't pick it up until recently - unfortunately as I was weeding it from our collection. It is a lovely book, one that speaks particularly to me as a native New Englander (though one that doesn't particularly enjoy winter). I loved how evocative Obed's prose was and I can see why people discussed this for the Newbery - every word is chosen with absolute precision, adding up to a beautiful and enchanting whole. The illustrations are lovely as well. Unfortunately, this is a book with limited appeal to children; I can see it perhaps being picked up by fans of Laura Ingalls Wilder - it has that same sense of nostalgia. It's a book I enjoyed, but one that didn't see much success with my patrons.