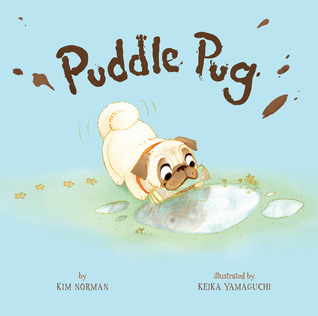 Puddle Pug
By Kim Norman, illustrated by Keika Yamaguchi
Published 2014 by Sterling Children's Books
So my coworker has a bit of an obsession with pugs. She's also the one who orders the picture books. As a result, we receive every picture book featuring a pug in our library. Which isn't always a bad thing, as with this book. This book is very adorable. It features a pug who cannot resist a puddle. He is looking for the most perfect puddle and finally finds it. Unfortunately, it's occupied. Can the current occupant and the pug reach a compromise? The illustrations are probably what makes this book for me, so sweet and so realistic. A very fun book that will certainly be a hit with kids.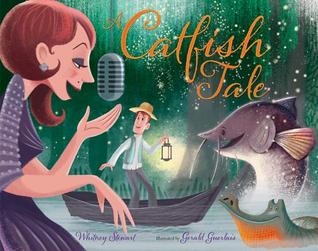 A Catfish Tale
By Whitney Stewart, illustrated by Gerald Guerlais
Published 2014 by Albert Whitman & Company
This is a retelling of the classic tale of "The Fisherman and His Wife." Stewart's version is set on the bayou and features its distinctive flavor. I feel pretty ambivalent about this book. The tale is not one of my favorites and I think Cajun/Creole is hard to do well so it's mostly just okay for me. I do like the illustrations quite a bit. They are the right amount of vibrant and soft and they have a bit of a retro flair, which I always enjoy. An interesting take on the tale.
Rules of Summer
By Shaun Tan
Published 2014 by Arthur A. Levine Books
Add Shaun Tan to the list of authors I just don't get. I mean, I understand that his books are not what they seem, that they are full of layers and symbolism and deeper meanings. But I don't ever get them. This book is no exception. It's full of striking imagery as it tells the tale of two brothers and their rules for summer. But it's not as straightforward as you might initially imagine. It's complex and I have a hard time believing that children are really going to get this book. But, maybe they're smarter than I am and will see what I don't. I think Shaun Tan just isn't an author for me.