Librarian of Snark's Favorite YA Books of 2014
(in alphabetical order)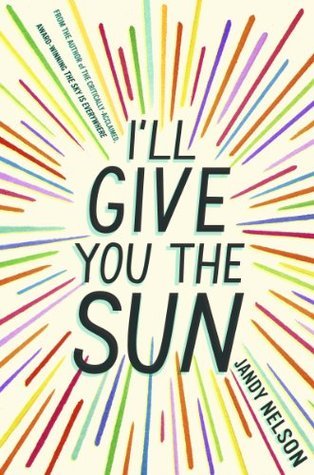 100 Sideways Miles by Andrew Smith
Dreams of Gods and Monsters by Laini Taylor
Grasshopper Jungle by Andrew Smith
Guy in Real Life by Steve Brezenoff
I'll Give You the Sun by Jandy Nelson
Poisoned Apples by Christine Heppermann
Princess of Thorns by Stacey Jay
Say What You Will by Cammie McGovern
There Will Come a Time by Carrie Arcos
Unmade by Sarah Rees Brennan
For more of the YA I read this year, check out my 'teen' and 'young adult' tags. I managed 90.5 YA novels this year, which is about 30 less than last year. As I said, my stats overall seem to be down quite a bit, which I'm not terribly surprised by. For the Printz, my money is on
I'll Give You the Sun
- I still think about this book every day.
My overall stats:
- 350.5 books total (119 picture books, 3 early chapter books, 83 middle grade, 90.5 young adult, and 55 adult books): about 80 less than last year
- 76,543 pages read: about 14,000 less than last year, so I definitely did not do as much reading
- 5 5-star reads, 106 4-star reads, 124 3-star reads, 44 2-star reads, and 2 1-star reads (I know these numbers don't add up - I have not added all picture books to my Goodreads account)
- in terms of my personal goal to read more books I owned: 204 library books (keep in mind that all the picture books and audiobooks came from the library) and 146.5 books I owned. I could have done better, particularly when I look at the piles of books still living in my house, so I'm keeping this goal (slightly modified) for next year
Taking a look back at my
most anticipated reads
, I read half of the series books I anticipated, though one did get pushed to 2015, and half of the standalones/new series books, though one of them has also been pushed to at least 2015. So, the no-library-book rule had something of an effect on whether or not I finished my anticipated reads.
I imagine next year my stats will be even worse. I'm serving again as a second-round judge for the Cybils in the Elementary/Middle-Grade Speculative Fiction category (which I'm very excited about!) and I'm also getting married (even more excited about that!). I imagine the wedding planning will take a bit of a toll on the number of books I read next year. As I mentioned above, I still have piles of books in my house, so I'm going to continue focusing on reading the books I own next year. I'm making some exceptions to try to finish series I've let fall by the wayside, particularly those that are now complete, and I won't be sticking to my rules as strictly this time around. In an earlier post, I mentioned that I'm trying to catch up on reviewing before the end of the year, but I think what I don't finish before then, I won't worry about. I'd like to start fresh next year and try to be better about reviewing in real time. I hope this will give me more time to interact with the blogging community as a whole as well - wish me luck! How did 2014 go for you?