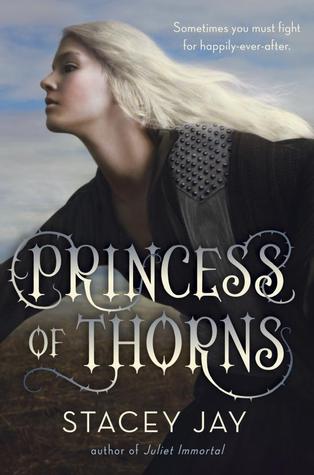 Princess of Thorns
By Stacey Jay
Expected publication December 9, 2014 by Delacorte Press
Princess Aurora has lived much of her life in exile, hidden from the ogre queen who destroyed her family and would destroy her as well. Now, she will risk discovery by the queen in order to rescue her brother and prevent a horrible prophecy from coming to pass. Prince Nicklaas is the youngest son of a terrible king, cursed so that he will never reach adulthood. But Nicklaas believes he has found a way to break the curse - he just needs the assistance of Aurora. Little does he know that the young Ror he finds on his journey is the princess in disguise. Can the two work together to break their curses and save their kingdoms?
So, I loved Jay's Megan Berry series way back when and was always on the lookout for her next novels. I enjoyed both
Juliet Immortal
and
Of Beast and Beauty
, so when I spotted her newest title, I knew I'd be requesting it. Happily, I downloaded and devoured the e-galley.
Like last year's release,
Princess of Thorns
is a bit of fairy-tale retelling. However, it's not exactly - Princess Aurora is the daughter of Sleeping Beauty and Prince Nicklaas is one of the boys in a "Wild Swans/Twelve Brothers"-type tale. We also meet the witch from Rapunzel and pass by Rapunzel's tower and encounter a girl in a red hood travelling with a wolf. Though I love a direct fairy-tale retelling, I love stories inspired by the tales just as much, so I was very excited to dive into this story and read Jay's take on these tales.
I'm pleased to say that, once again, Jay has enchanted me. I really, really liked this book. I liked Jay's choice of multiple narration (mostly dual, but with an occasional chapter from the Ogre Queen), though I was disappointed that the Ogre Queen's voice stopped appearing later in the novel. I usually enjoy books with multiple perspectives - they give me a chance to see events from more than one point of view and provide a more complete picture of the action of the novel. But, they only work if the characters work and I think that's the main reason I enjoyed this book so much.
For the majority of the book, we alternate viewpoints between Aurora and Niklaas. I loved them both, though both could be quite frustrating at times. Their voices are similar - both are wary of trusting people but both need the help of a stranger to achieve their goals - but distinct enough that it was clear to me whose narration I was reading at all times. Aurora is impulsive, most frequently acting before she thinks things through, which obviously leads to some less than ideal situations. Niklaas is arrogant, sure that he can charm any woman into what he wants (and yes, I did have a little feminist revolt against his character, particularly as he believes that women are mostly good for certain things). Both are stubborn, which of course means chemistry and clashes. They are a fun pair to read about and I enjoyed that Jay developed the relationship between them over time. I was completely invested in their stories, both separately and together, and I rooted for their success the whole way through. However, it's not difficult for me to see that some readers are definitely going to have a big problem with Niklaas and his beliefs about women. I can't say that they set well with me, only that I enjoyed enough of the rest of the story to keep with it.
This book also hits a lot of fantasy tropes, and I enjoyed them. The long journey, cross-dressing, a villain with a change of heart - everything just worked really well. I can see that this story may not be for everyone - as I said, the characters can be quite frustrating at times and the journey can seem a bit long - but for me, this book worked perfectly. I don't think this is a perfect book, but I enjoyed it and I hope Jay continues writing fairy-tale retellings.
Thanks to the publisher for a digital advance reader's copy, provided via Edelweiss.