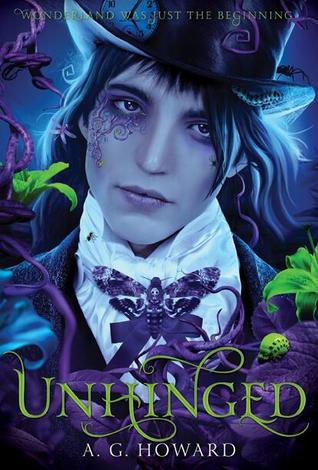 Unhinged (Splintered, book two)
By A.G. Howard
Published 2014 by Amulet
WARNING: There may be spoilers ahead. To read my review of book one, go here.
Alyssa has saved Jeb and now just wants to graduate so they can head to London. But, nothing is ever so simple for her, especially when Wonderland begins to peek through to the real world. Can Alyssa figure out a way to balance her two selves and stop the Red Queen?
Reading this book was a no-brainer for me. I actually requested the e-galley and read about half before it expired. Then I was mad at myself for not being able to finish it because I'd entered the year of no library books, which meant I'd have to bend the rules to finish it. But then, my colleague loaned me her copy of the ARC (which, yes, I realize is still bending the rules), so I quickly devoured the rest of the book.
As mentioned in my review of the first book, I'm an Alice junkie and I still think Howard is doing a fantastically creepy job of expanding and twisting Carroll's original creation into something haunting and compelling. She continues to explore the darker nature of the characters in this book, and I think it works well. Once again, though, I feel like the real strength of this book is the descriptive language - Howard has created some fantastical creations but with her prose, they are easy to imagine.
Though I think Howard is successful at exploring a dark world, Wonderland does not have as much of a presence in this book as in the first. Similarly, Alyssa was a bit more grating here than in the first and the plot felt a little lacking. The romance with Jeb was not my cup of tea in book one, but I felt a bit more keen on it here in book two; however, there is a lot of love triangle stuff going on that I found frustrating.
Perhaps my biggest disappointment was reaching the end and realizing that this was only book two of a series (which I hope will only stretch to three books). I had not known there would be a book three and I was sad to get to the end of this one only to discover it wasn't really the end. Regardless, I'll be back for book three, to see how it all plays out.